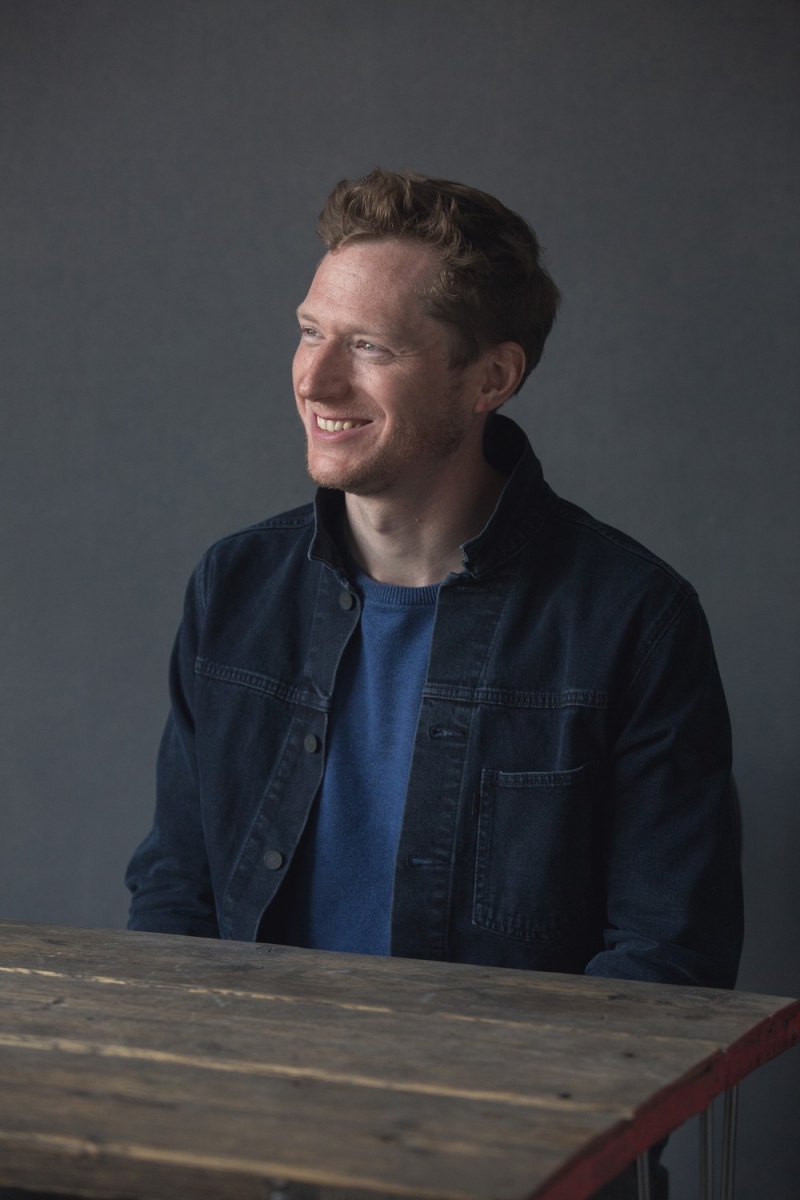 Photo of Michael Wharley taken by Michael Shelford.
How did you become a photographer?
I was an actor for 6 years waaay back in the mists of time and started doing a bit of photography on the side; headshots for friends and the like. When I stopped acting, I actually started training to be a criminal barrister, but the camera kept nagging away, and in the end, I gave in. I'm glad I did.
How did you get into shooting headshots specifically?
To begin with I shot anything and everything that would pay: portraits, reportage, business headshots, even events. Bit by bit, I realised I liked portraiture best, and my acting background and contacts drew me to headshots. These days, my work is divided half and half between one-on-one portrait sessions with actors, and advertising shoots for film, theatre and TV, in the studio or on location. I recently shot my first feature film stills and that was an interesting break from the norm. It's a rare day I'm not shooting with an actor in one way or another.
Where do you shoot?
For headshots, in my lovely, airy studio by the railway tracks at
Make Space Studios
in Waterloo, or sometimes out and about around the local area. These days, I'm most interested in mixing natural light with flash light or continuous LED lights to create headshots that feel outdoors, indoors, but with the clarity of studio light.
How would you define your style?
Almost all my headshot clients tell me they chose me from all the many excellent photographers out there because my shots make the person in the shot seem real and present, as if you were meeting them in the flesh. I'd say: real-feeling, but clean and punchy, with a focus on the eyes.
Tell us what you like most about your job?
The range of people and personalities you meet, and the endless variety of faces: skin tones, eye colours, face shapes, hair. That variety makes each session different.
And tell us what you like the least?
When people are very negative about themselves or their prospects during our shoot. The business is hard enough without beating yourself up – a headshot session is a chance to shape how people perceive you and make a fresh start, so even if it does breed nerves , I think it's best to channel them into positivity.
Who is your photography hero?
Don McCullin
for his war reportage and the brooding landscapes he took when he stopped shooting in conflict zones (there's a major retrospective of his work at the Tate right now; check it out if you don't know him).
Jason Bell
for stunning advertising work for film and theatre (his images for '
Mary Queen of Scots
' are everywhere), and
Gregory Crewdson
for the complex and eerie narrative shots he takes. He often uses as many crew for one single shot as for a small feature film. Wish I had those resources!
What track is most likely to be playing in your studio, or on you iPod?
At the moment, 'Nina Cried Power' by
Hozier
, featuring the amazing voice of
Mavis Staples
. I saw her at Union Chapel last year, and it was a borderline transcendental experience.
Jaffa Cake or Digestive?
Both. Together. A Jaffa sandwiched between two Digestives
Wine or Beer?
BEER! My brother runs a brewery in Leeds called
Ridgeside
, and their Kodiak Porter is a thing of beauty .
Cats or Dogs?
Is that even a choice?! Dogs. Lots of dogs. If I have to have just one: a liver and white springer spaniel. We sometimes look after fellow APHP member Adam (
Mug Photograhy
) Hill's ace chocolate cocker spaniel, Buster, but haven't persuaded him that we are better than Adam. Yet.
How would you like to be remembered?
If we're talking absolute wish list: as a kind and thoughtful human, as a photographer of taste, skill and sensitivity, as someone who made a small but meaningful difference as he passed through. I'm really proud of being part of the core crew who got the APHP going.
About Michael
Web address:
www.michaelwharleyphoto.com
Twitter:
@michaelwharley
Insta:
@michaelwharley
Facebook:
https://www.facebook.com/michaelwharleyphotography/
Read previous posts
Headshot Advice: How to Prepare for a Headshot Session with Michael Wharley
,
What to Wear to your Headshot Shoot
,
Don't waste your hard-earned cash! Prepare to Succeed in your next Actors Headshot Shoot.
,
Talking the future of headshots at Spotlight