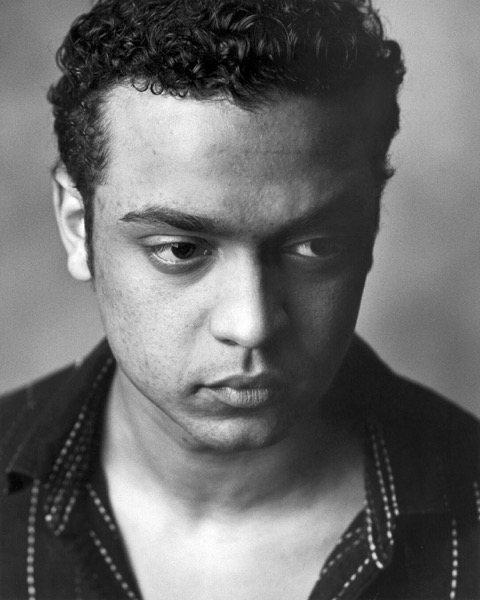 A great headshot can be created by many factors. Technical skill, of course. A unique connection between subject and photographer. A great choice of clothing. A brilliant location. The happy accident of a gust of wind or a beautiful day's light. Sometimes even the dog that ran through the frame and created a candid moment....
In this monthly blog, we ask a member to share an image that means something to them, and explain why. This month, vastly experienced photographer
Charlie Carter
steps back from the colour-saturated world of contemporary, digitally-shot headshots to recall a B&W, shot-on-film image that still resonates for her today.
"This is an image of then LAMDA drama student Danny Lee Wynter taken in 2002 as he was about to start his third year. It was one of those images that jumped out at both Danny and I."
Danny, who alongside a successful acting career would go on to found industry-equality body
Act for Change
, takes up the story:
"When I was a student at LAMDA, both the staff and my fellow colleagues would tell me that I was unconventional and, dare I say it, otherworldly in my approach. Sometimes it was a compliment, other times used as a term of derision. I was painfully aware of this fact that (and still am!). I'm a thinker and my energy can sometimes translate as indirect. The shot you got of me looking away caught me in my truest light during that session. My attention fully engaged / transfixed by something. And at the time I was also overawed by the Cecil Beaton exhibition at the NPG. I loved the unashamed theatricality of all those iconic photos. I consciously came to the session with you wanting something that captured my theatricality and not a standard head shot. And we got it."
Nearly 15 years later, Charlie reflects:
"From what I understand, his drama school were not keen on him using such a 'different' image but once he got out into the industry he was often told by directors at interviews how much they loved his very different headshot. His first job was opposite Maggie Smith and Michael Gambon in Stephen Poliakoff's Capturing Mary and Joe's Palace."
Where taken:
Shot at my studio in Fulham in 2002
How taken:
Shot on film on a Nikon F100 with a 80-200 f4 lens.
What kind of light?
Studio flash – Bowens 1500.
About Charlie
w:
charliecarter.com
Twitter:
@charliecphotog
Facebook:
charliecarterphotography
About Danny
Agent:
United
Twitter: ​
@dannyleewynter
Act for Change:
http://www.act-for-change.com/