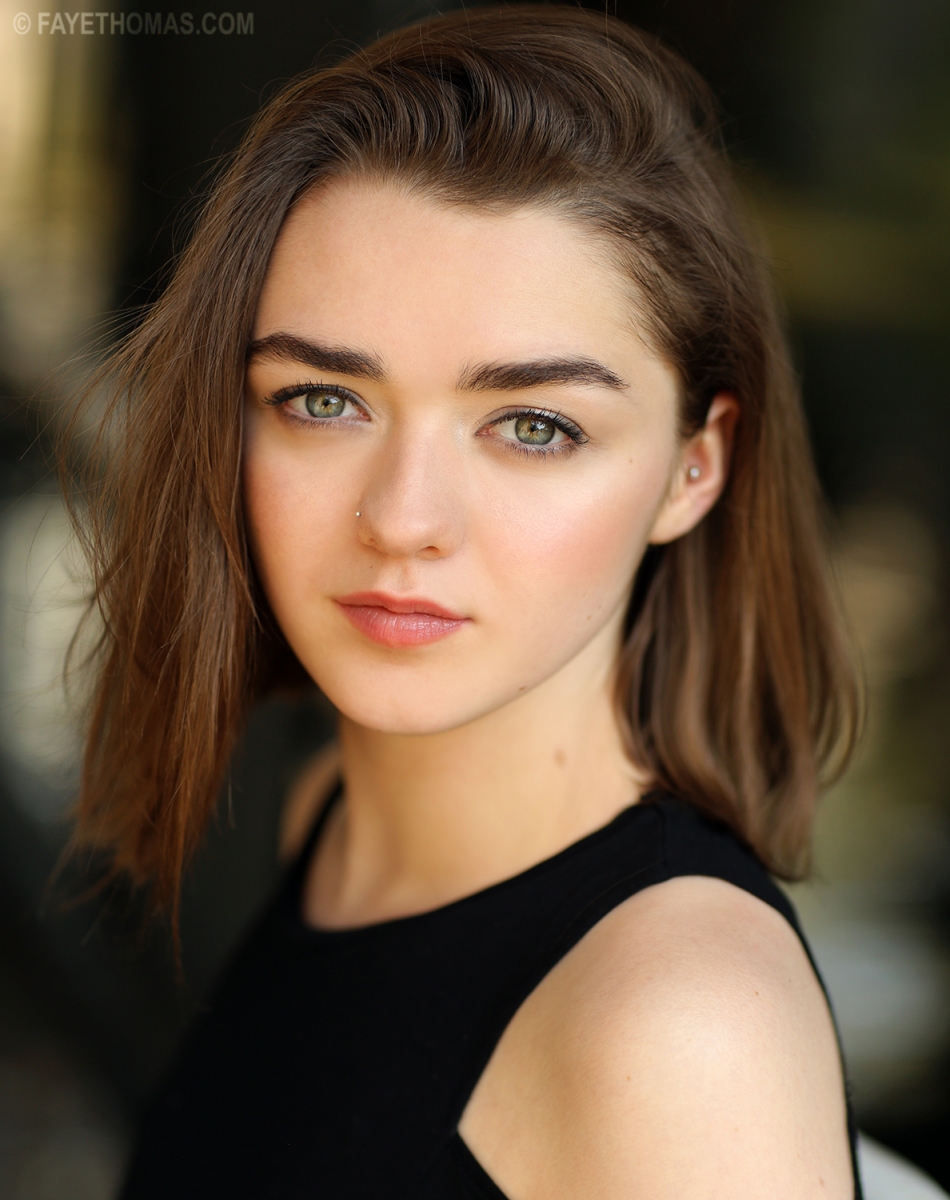 ​Maisie Williams photographed by Faye Thomas.
This is a portrait of the lovely Maisie Williams (rep: WME). It's an interesting shot for me because at the time Maisie was playing Arya Stark in Game of Thrones and these were the first personal images she'd had to market herself as an adult (she'd been doing the show since she was 14 and I think she'd just turned 19 at the time of this shoot). It's a really interesting place to be when you are known around the world for a young character and during the course of filming you evolve into an adult… There's a big responsibility on the photographer when shooting young actors, particularly those who are experiencing an intense level of public scrutiny from a fan base (and particularly young women), to ensure that what you're capturing reflects how your client wants to be perceived. Those kind of images tend to go viral in fan communities and the media - and the qualities they exhibit tend to impact judgement of the individual, separate to the characters they play (for example, see: how images of Emma Watson or Lindsay Lohan were subject to an absurdly high level of personal critique when those actresses released portrait shoots after turning 18 - and the subsequent effect on careers and personal lives as a result of the media feedback. Images drive the press narrative, particularly in Britain. You can't sell a story without a photo to illustrate your angle… Anyway - that's a whole different discussion!)…
Whenever I shoot a young woman in the public eye it's really important to me that whatever images get released are primarily strong. Even if it is 'strong, with a side of vulnerability and sex appeal', I always want the shots to sell my clients as playfully dangerous. I feel like that vibe works perfectly for Maisie Williams (Arya is my favourite character in GoT. For anyone who hasn't seen the show she's basically a badass tiny assassin Queen), and I love the energy in this image. For me, it sits on the line between powerful and contemplative. There is a soulful quality in her eyes which echoes something older than her years, and a directness and an intensity which is challenging to the viewer… But the image isn't hard or cold, it feels open and engaging with a flash of defiance. I often ask clients to pretend they're pointing a sword at me below the camera. Which seems incredibly apt for this one.
Where shot: London, outdoors
When shot: 2016
How shot: Natural light, one reflector
What camera: Canon 5D MK4
About Faye Thomas
Web address:
www.fayethomas.com
/
www.fayethomasphoto.com
Twitter:
@fayethomasphoto
Insta:
@fayethomasphoto
Facebook:
www.facebook.com/fayethomasphotography
Read previous posts
Photographer in Focus: 60 seconds with Faye Thomas